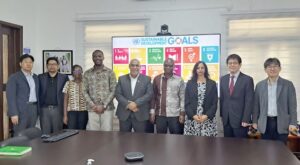 UNESCO to Embark on Enhancing Education Through Five Year Skills Training in TVET.
UNESCO to Embark on Enhancing Education Through Five Year Skills Training in TVET. The phase of education in Ghana is mostly theory oriented. This has caused a major harm to the youth and the country as large. County's Development occurs through creation as a result of quality TVET training. In view of this UNESCO together with  UNEVOC have deem it more prudent to help strengthen our education system.
These organizations upon seeing our struggles with IMF, decoded that our education will suffer mercilessly based on the conditionality barked by the IMG program. In lessening  this, they agreed to introduce 5-year skill training into our TVET system in a more different and effective way than we used to see in the country.
UNESCO is going to be fully in charge of the running of this 5year skills training plan across all the sixteen regions in Ghana.
United Nation Education Scientific and Cultural Organization (UNESCO) as well as International Centre for Technical and Vocational Education and Training have already institutionalized The first and second phases of this program. It is time selected countries in West Africa such as Nigeria, Ghana, Sierra Leone and La' Cote d'lvoire  to benefit from the program. Let take this into consideration! Why are most foreign countries embarking on such programs in Africa to help our economy but our leaders are reluctant in the country's Affairs?
The first and second phases of the program which took place in Southern and Eastern parts of Africa respectively has brought major improvement in those continents.
The advice from the Organizations is that government should invest largely in training teachers in practical education so that these teachers can occupy the various TVET schools in the country. If possible teachers should be sent outside world to groom themselves in practical education who will inturn inculcate such skills to their  learners.
They also drew government attention to focusing on Agriculture since we have rich vegetation. We pray this will help turn the phase of education and stabilize the economy in Ghana
Source.
https://www.graphic.com.gh/news/education/enhancing-skills-training-in-ghana-unesco-to-undertake-5-year-tvet-project.html